The finest quality Appalachian hardwood is essential when distributing and manufacturing hardwood products for furniture, moulding, and other secondary uses. Crafting exquisite pieces that consumers will love requires the trust, charm, and quality that only Gutchess Lumber hardwood can provide. That is why our tagline is Be Sure It's Gutchess.
Each type of Appalachian hardwood is unique and versatile and has specific characteristics that make it the perfect choice for your needs. In this guide, we'll introduce you to the eleven hardwood species we manufacture here at Gutchess Lumber that are revered for their distinctive characteristics and consistent quality.
White Ash Hardwood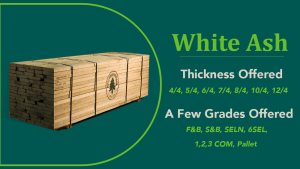 Commonly used in furniture, tool handles, guitar bodies, lobster traps, and flooring, White Ash (Fraxinus americana) is a symbol of strength and dependability. Characterized by a straight, medium to coarse texture, it ranges from light to medium brown. Our White Ash hardwood is dense with bright white sapwood, light tan heartwood, and uniform, well-defined annual growth rings.
Renowned for its durability, it's the go-to wood for crafting baseball bats and longbows. Whether you're creating a masterpiece or a functional tool, White Ash is a choice that ensures your creation stands the test of time.
Thickness Offered:
4/4, 5/4, 6/4, 7/4, 8/4, 10/4, 12/4
Few Grades Offered:
F&B, S&B, SELN, 6SEL, 1,2,3 COM, Pallet
Basswood Hardwood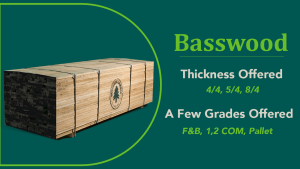 Also known as Lime or Linden, American Basswood is a soft, lightweight hardwood ideal for crafting. A soft, lightweight wood, pale in color, with fine close grain, it is usually free of large knots. From pale white to light brown, Basswood features a straight, fine-grain pattern—a canvas of understated elegance.
The light density of basswood lumber makes it well-suited for woodenware, crates, blinds, and internal furniture parts. For carving enthusiasts, kiln-dried Basswood responds effortlessly to hand tools. In many applications, it's a versatile substitute for aspen or poplar.
Thickness Offered:
4/4, 5/4, 8/4
Few Grades Offered:
F&B, 1,2 COM, Pallet
Yellow Birch Hardwood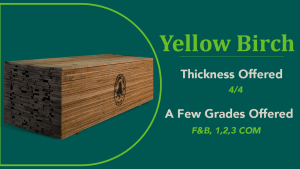 Native to Northeastern North America, Yellow Birch (Betula alleghaniensis) showcases a beautiful interplay of light, red-brown heartwood, and nearly white sapwood, exuding natural sophistication. The wood's straight grain complements its fine, even texture, making it a pleasure to work with. With a Janka Hardness rating of 1,260 lbf, Yellow Birch embodies durability. Kiln-dried Yellow Birch finds its place in various applications, from crafting furniture and kitchen cabinets to adorning paneling, moldings, and interior doors.
Thickness Offered:
4/4
Few Grades Offered:
F&B, 1,2 COM
Black Cherry Hardwood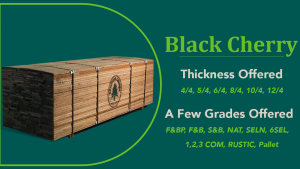 The Black Cherry (Prunus serotina) is a North American marvel featuring a fine, straight grain with the exception of figured pieces with curly grain patterns or when defects from pith, mineral deposits, gum pockets, and knots arise. Due to its malleability and the wide distribution of the seeds of its fruit by birds, the Black Cherry has always been in abundance in North America.
Ranging from light pink-brown to a radiant medium reddish-brown, Black Cherry's palette is highly versatile. Medium in density, Black Cherry is malleable and exhibits excellent wood bending properties. Kiln-dried Cherry lumber finds its place in fine furniture, cabinets, paneling, flooring, doors, and even musical instruments. Its versatility extends to coffins, carvings, and recreational vehicle interiors.
Thickness Offered:
4/4, 5/4, 6/4, 8/4, 10/4, 12/4
Few Grades Offered:
F&BP, F&B, S&B, NAT, SELN, 6SEL, 1,2,3 COM, RUSTIC, Pallet
Hard Maple Hardwood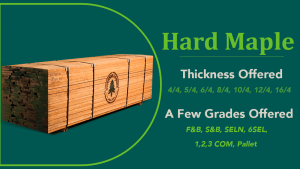 Hard Maple hardwood hails from the Sugar Maple tree (Acer saccharum), and is abundant throughout the Northeastern United States and Northeastern Canada. Hard Maple wood features a fine, even-textured grain that is generally straight but may be wavy. It boasts a palette ranging from white to cream and is graced by reddish or golden hues.
Hard Maple is a dense hardwood noted for its sturdy, bright white sapwood and high abrasion and wear resistance. Hard Maple finds its essence in various applications, from crafting fine furniture to adorning cabinets, stairs, and millwork. It can be found in gym floors, bowling alleys, and even in creating musical instruments.
Thickness Offered:
4/4, 5/4, 6/4, 8/4, 10/4, 12/4, 16/4
Few Grades Offered:
F&B, S&B, SELN, 6SEL, 1,2,3 COM, Pallet
Hickory Hardwood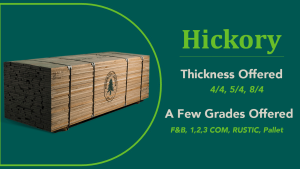 Native to the Eastern United States, Hickory is commonly known as Shagbark Hickory. Its remarkable Janka Hardness ranking of 1,880 lbf ensures excellent strength and shock resistance. Hickory wood lumber heartwood features light to medium brown with red undertones, while the sapwood is pale, yellowish-brown. Its grain, predominantly straight with occasional waves, adds depth to its visual appeal, complemented by a medium texture.
For those seeking a rustic touch, Calico Hickory boards offer a picturesque option featuring heartwood and sapwood on the same canvas. Used for cabinets, tool handles, axles and shafts, bows, skis, paddles, furniture, and flooring, Hickory is hard, dense, and heavy.
Thickness Offered:
4/4, 5/4, 8/4
Few Grades Offered:
F&B, 1,2,3 COM, RUSTIC, Pallet
Poplar Hardwood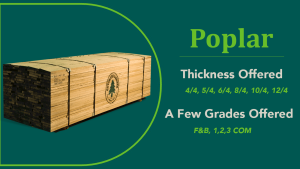 Rising to towering heights of 130 to 160 feet, with trunks spanning 6 to 8 feet in diameter, Poplar commands attention with its sheer size. However, beneath this imposing stature lies a wood of remarkably low density.
Poplar wood color features a light cream to yellow-brown heartwood, pale yellow to white sapwood, and a straight, uniform grain. White Poplar is a light, soft hardwood with sapwood that is white or light green cast. The color is lighter and more uniform than native American Southern "Yellow Poplar" (also known as Tulipwood). It is generally free of dark mineral streaks found in the southern species, making it a stain-grade Poplar.
White Poplar offers an economical solution for various applications from furniture to millwork, carvings to picture frames. It proves itself to be a versatile and cost-effective option.
Thickness Offered:
4/4, 5/4, 6/4, 8/4, 10/4, 12/4
Few Grades Offered:
F&B, 1,2,3 COM
Red Maple Hardwood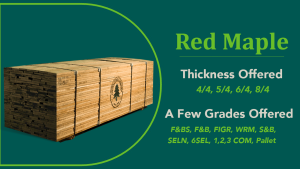 Also known as the Scarlet Maple, Red Maple, the Drummond Red Maple, the Carolina Red Maple, the Swamp Maple, the Trident Maple, and the Water Maple, this hardwood is found in the Eastern United States and Canada. Similar in appearance to Hard Maple, its close-grained sapwood is generally creamy white, and its heartwood is reddish-brown. The grain of this hardwood is often dotted with flecks. It easily machines and can be finished to emulate the essence of Hard Maple, Black Cherry, or Alder, making it a valuable substitute in various woodworking projects.
Thickness Offered:
4/4, 5/4, 6/4, 8/4
Few Grades Offered:
F&BS, F&B, FIGR, WRM, S&B, SELN, 6SEL, 1,2,3 COM, Pallet
Red Oak Hardwood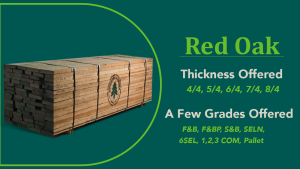 A testament to nature's vigor, the Red Oak tree unfurls its branches, growing to a remarkable 24 inches yearly. Red Oak lumber boasts a distinctive character, featuring a coarse, uneven, straight grain punctuated by large pores. Red Oak wood color ranges from light to medium brown with red undertones.
Distinguished by its strength, durability, and ease of manipulation, Red Oak is a versatile ally in woodworking. Red Oak machines exceptionally well and can be stained or polished beautifully. Kiln-dried Red Oak is commonly used in furniture, cabinets, doors, panels, moldings, and millwork, floors, and caskets.
Thickness Offered:
4/4, 5/4, 6/4, 7/4, 8/4
Few Grades Offered:
F&B, F&BP, S&B, SELN, 6SEL, 1,2,3 COM, Pallet
Walnut Hardwood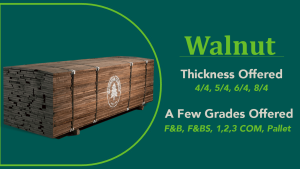 Known by various names like American Black Walnut and American Walnut, Walnut exudes an air of timeless elegance. The Black Walnut hardwood bark is dark gray to brown in color with deep ridges that create a distinctive bark pattern. American Black Walnut is a straight-grained, medium-density hardwood with beautiful dark red heartwood and steamed dark sapwood.
Renowned for its workability and stunning finish, this medium-density hardwood is preferred for various applications. From crafting exquisite furniture and cabinets to adorning doors, floors, and paneling, Black Walnut leaves an indelible mark of sophistication and luxury.
Thickness Offered:
4/4, 5/4, 6/4, 8/4
Few Grades Offered:
F&B, F&BS, 1,2,3 COM, Pallet
White Oak Hardwood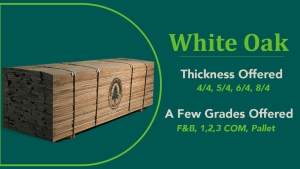 White Oak (Quercus alba) tree growth is native to the eastern United States. It boasts resilience against diverse climates, adapting seamlessly to varying temperatures, annual precipitation, and relative humidity levels.
The color of White Oak lumber can be described as similar to wheat in color with cool undertones. White Oak wood features a very mild, straight grain pattern that is perceived as having a coarse, uneven texture even when planed.
The remarkable durability and water-resistant prowess of White Oak truly set it apart. Tyloses fortify its pores, rendering it resistant to decay and rot. These natural waterproofing properties are the reason White Oak has historically been the wood of choice for shipbuilding.
White Oak has a light brown heartwood and slightly paler sapwood. It is vital, tough, dense, tight-grained, durable, and beautiful. Its water-resistant properties make it the primary species for whiskey and wine barrels. It is used in fine furniture today and indoors, moldings, caskets, boat decking, flooring, and outdoor applications. Kiln-dried White Oak is rated as one of the best hardwoods for machining and steam bending.
Thickness Offered:
4/4, 5/4, 6/4, 8/4
Few Grades Offered:
F&B, 1,2,3 COM, Pallet