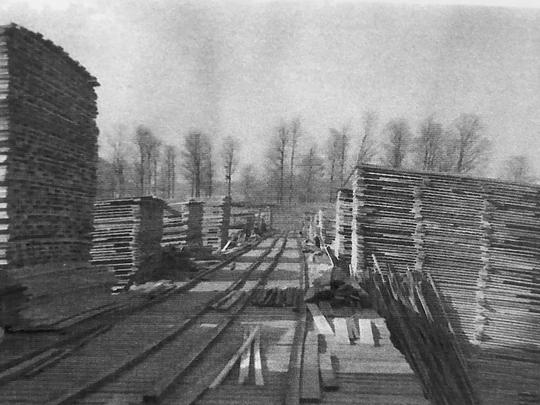 Founded in 1904, Gutchess Lumber Co. Inc is an employee-owned (ESOP) and family-led business that specializes in the production of superior quality kiln-dried hardwood lumber products. We are one of the largest suppliers of American hardwoods in the United States, with customers all around the world. Our hardwood lumber products are used in a variety of applications including furniture, cabinetry, flooring, millwork, stair treads, and much more.
Gutchess Lumber began in 1904 as a small, regional lumber company serving central New York. George Gutchess started the sawmill business by powering his mill with a wood-fired steam tractor. In the beginning days of Gutchess Lumber, oxen and horses were used to transport lumber across surrounding regions in New York state.
Today, Gutchess Lumber operates out of seven strategically located mills across New York and Pennsylvania, shipping truck loads and container loads of lumber to customers across the United States as well as all over the world. We attribute our success to our commitment to customer satisfaction and our dedication to producing the highest quality product possible.
The Gutchess Lumber Difference
What sets Gutchess Lumber apart from other American hardwood suppliers? Quality control is paramount at our facility; we grade all of our kiln-dried lumber according to the National Hardwood Lumber Association standards. This results in a more stable and consistent product for our global customers. Our lumber comes from prime timberland in the northeastern region of the United States. Our forestry team is dedicated to working with private landowners to develop plans that benefit the environment, meaning that our hardwood lumber products come from well-managed forests that adhere to our responsible forestry management practices.
In addition to producing high-quality lumber, we also pride ourselves on our customer service. Our international sales team members are happy to work with your schedule, no matter where you are in the world, to answer any questions you may have about our product or your order. We know that when you're buying lumber internationally, time is of the essence; that's why we work hard to keep lead times as short as possible.
If you're looking for an American hardwood supplier that you can count on for consistently high-quality lumber, Gutchess Lumber Co. Inc. is the right choice for you. We have been in business for over 100 years and have shipped container loads of lumber to satisfied customers all over the world. Contact your region's sales representative today to learn more about how our hardwood lumber products can maximize your yields.