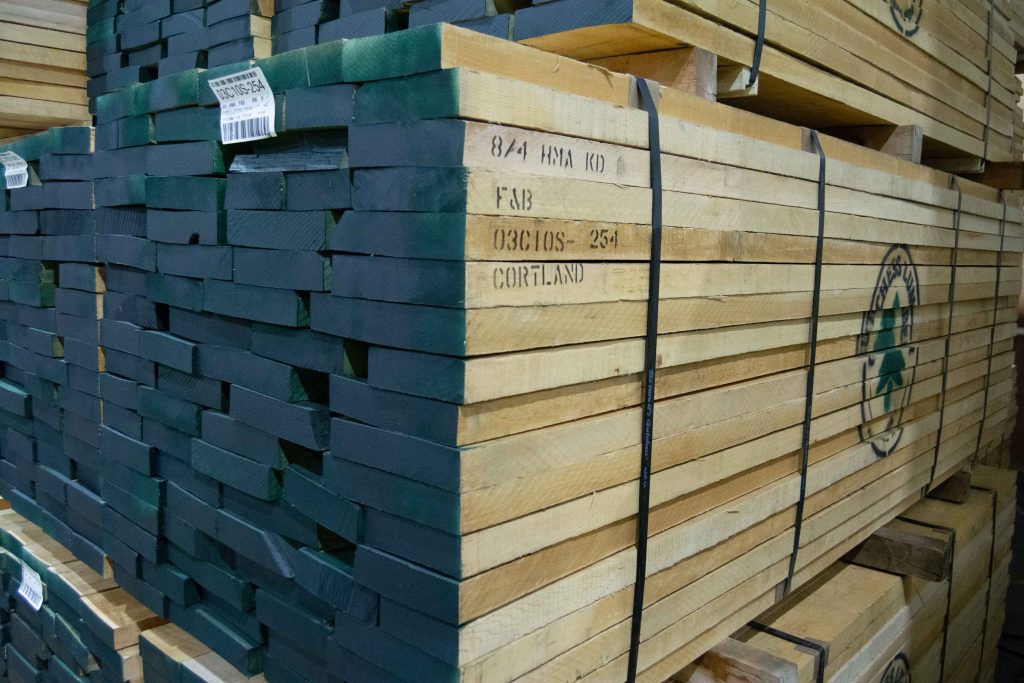 Gutchess Lumber Co., Inc. is a leading producer of North American forest products, with seven lumber yards and manufacturing plants located in New York and Pennsylvania. The company takes advantage of the abundant prime North American timber in the region to provide high-quality lumber products to its customers. Gutchess Lumber has been a well-established hardwood lumber manufacturer in business for over a century. Founded in 1904, the company has built a reputation for providing high-quality hardwood forest products to customers worldwide. As a fifth-generation led and employee-owned company, Gutchess Lumber is committed to maintaining its position as a leader in the industry for years to come.
Responsible forest products
Sustainability is a crucial aspect of Gutchess Lumber's operations. The company is committed to responsible forestry practices, harvesting timber from responsibly managed forests, and using state-of-the-art manufacturing processes that minimize waste and reduce its environmental impact. Gutchess Lumber controls the manufacturing process from the forest through shipping to customers. From harvesting logs to delivering hardwood forest products, the company controls every aspect of the process to ensure the highest quality products for its customers. Watch as logs are added to the log yard at Gutchess Lumber's Cortland, New York headquarters below.
Hardwood forest products
Gutchess Lumber's seven lumber yards and manufacturing plants are strategically located across New York and Pennsylvania, providing easy access to world-renowned timberland. The company also has a robust distribution network that enables it to deliver products to customers across North America and worldwide. One of Gutchess Lumber's key strengths is its ability to provide its customers with a wide range of hardwood products. The company manufactures and exports hardwood forest products worldwide, including Black Cherry lumber, Hard Maple lumber, Northern Red Oak and White Oak lumber, and other Northern hardwood species. Gutchess Lumber's products are used in various applications, including furniture making, cabinetry, flooring, and more. Read some Gutchess Lumber customer testimonials here.
World-renowned hardwood lumber
One of the critical strengths of Gutchess Lumber is its ability to provide consistent products. The company has a team of sales professionals who work closely with customers to understand their unique requirements and provide tailored solutions. This customer service level has helped establish Gutchess Lumber as a trusted supplier in the industry.
"We have been trading with Gutchess Lumber for at least 20 years," a hardwood distributor customer in the United Kingdom said. "They have always been reliable, straightforward and their quality always meets expectations. Gutchess Lumber has always delivered on time, as per their contracts and their staff responsible for documentation are very thorough, ensuring that we never have any problems with the import process. We have no hesitation in advising that Gutchess Lumber is an honorable company."
Produced by employee-owners
As one of the leading producers of North American forest products, Gutchess Lumber prides itself on manufacturing a consistent product. Maintaining strict quality control standards is one of the key benefits of keeping the entire manufacturing process in-house. Each employee at Gutchess Lumber is dedicated to producing a superior hardwood forest product, as they have skin in the game. Gutchess Lumber is an employee stock ownership company, which means employees are company owners. Listen in as sales representative Trudy Burdge talks about the ESOP program in the video below.
In conclusion, Gutchess Lumber is a leading producer of North American forest products, committed to sustainability, high-quality products, and exceptional customer service. Whether you're a contractor, furniture maker, or packaging manufacturer, Gutchess Lumber has the products and expertise to meet your needs. Use our interactive map to identify your region's sales representative and get in touch to purchase hardwood from one of the leading producers of North American forest products.