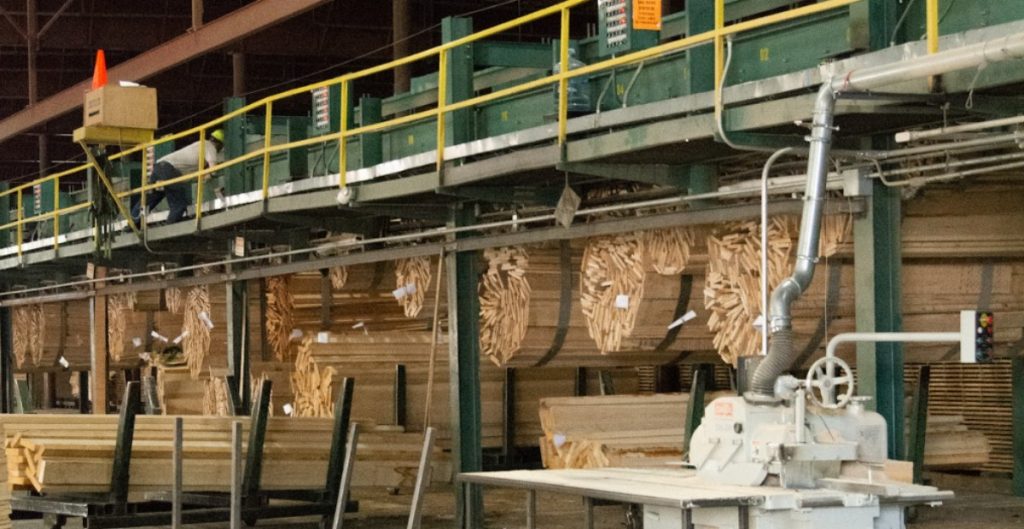 If you're manufacturing hardwood products like cabinets, flooring, stair parts, or a distributor of fine hardwood lumber, you probably know the value of a reliable supplier for high-quality hardwood.
Gutchess Lumber, a leading name in manufacturing responsible hardwood products, is here to meet your demands. We understand your need for reliable, high-quality hardwood and are here to make it happen.
So, what goes into partnering with Gutchess Lumber for your hardwood needs? Here's a comprehensive guide.
1. Consistent Quality Hardwood Products
At Gutchess Lumber, we specialize in providing consistent quality Appalachian hardwood products to businesses that demand ongoing excellence. Our business caters to manufacturers of hardwood products such as cabinets, flooring, furniture, stair parts, moulding, millwork, etc., and distributors of hardwood lumber.
We can ship truckloads and containers of consistent quality hardwood domestically and worldwide. If you manufacture or distribute hardwood lumber, look no further than Gutchess Lumber.
2. On-time Delivery
Gutchess Lumber is committed to supplying hardwood year-round and on time, regardless of market conditions. We understand there is no room for delay when you say you need hardwood by a specific date. When we say you'll get your hardwood delivered on a particular date, we mean it.
3. Strong Credit Standing
A good credit standing is vital for any business transaction. We work best with partners who value this as much as we do and maintain a good credit score to create a reliable, mutually beneficial, and secure business relationship.
4. Species Requirements
When it comes to hardwood, choosing a suitable species is critical. Gutchess Lumber allows you to choose from various Appalachian hardwood species. You've come to the right place if you're in the market for any of the following hardwoods. Our production line includes:
Each of these hardwoods has unique qualities. When you're looking to buy any of the species that Gutchess offers in truckload or container quantities, you can be confident that you're getting real American hardwood.
5. Flexibility in Specifications
Regarding hardwood, you must find lumber that best suits your specific requirements. If you're looking to buy truckloads or containers of rough-cut lumber or S2S material, then Gutchess Lumbers is the perfect destination for you. You can find the specifications of each species on our website and our hardwood lumber stock list, which is updated consistently.
6. Exclusive Focus on Business Partners
Gutchess Lumbers places value in building long-lasting, enduring and exclusive relationships with our customers. We are happy to go the extra mile to ensure commitment in our relationship with our customers. To honor this commitment, Gutchess Lumber does not pursue or solicit business from our distributors' customers. Our customers are collaborators in a shared journey towards excellence in hardwood products.
To reinforce this commitment, we have a strict policy: you must not be a customer of a current customer. We respect our established partnerships and believe in working with them for mutual growth.
7. Shared Value of the Environment and Sustainability
You're in the right place if you're passionate about responsible forestry practices in hardwood production. At Gutchess Lumber, we understand the importance of responsible practices in hardwood harvesting and production. If you share our passion and value for responsibly sourced hardwood, you should buy truckloads and containers of hardwood from us.
Partnering with customers who share a similar vision ensures that we collectively continue to take steps towards a greener, more sustainable future.
8. Promoting the Benefits of Hardwood
At Gutchess Lumber, we are deeply committed to providing high-quality hardwood and spreading awareness about its exceptional benefits. From its durability and timeless appeal to its positive environmental impact, hardwood is an exceptional choice for aesthetics and sustainability. At Gutchess Lumber, we encourage you to choose us only if you are equally passionate about promoting the advantages of hardwoods to consumers around the world.
The Gutchess Lumber Advantage
1. Transparent Payment Terms
Gutchess Lumber believes in ensuring clarity and flexibility when it comes to payment. Our standard payment terms for domestic transactions are 1% 10 days/Net 30.
On the export front, we extend three standard payment methods: CAD (Cash Against Documents), Wire Transfer, and the 2WT option. The latter offers a 2% discount if payment is wired within ten days of receiving the invoice. This not only streamlines the transaction process but also provides a cost-saving incentive. We accept ACH and wire payments, facilitating smooth and secure transactions.
Additionally, there is no restriction based on the number of years your business has been in operation. New businesses, get in touch. We've been around for 120 years and counting and would be happy to share some of the knowledge we've collected over the years.
2. Flexible Shipping Options
At Gutchess Lumber, we understand that shipping preferences can vary. We offer two primary shipping terms to accommodate your needs and ensure a hassle-free buying experience.
FOB Mill: Under this arrangement, you can organize the freight, whether a truckload or a container. This gives you control over the logistics of the shipment.
Delivered: With this option, we take charge of the freight arrangements, ensuring a hassle-free delivery process. Whether it's a truckload or container, we handle the logistics so you can focus on your core operations.
We will help you find lumber that fits your specific requirements so you can buy truckloads and containers of hardwood from Gutchess Lumber. Click here to find your region's dedicated sales representative and get in touch. We can't wait for you to get your first delivery of Gutchess Lumber hardwood products.
What are you waiting for? With flexible export options and the best quality lumber, order your truckload of lumber from Gutchess Lumber today!