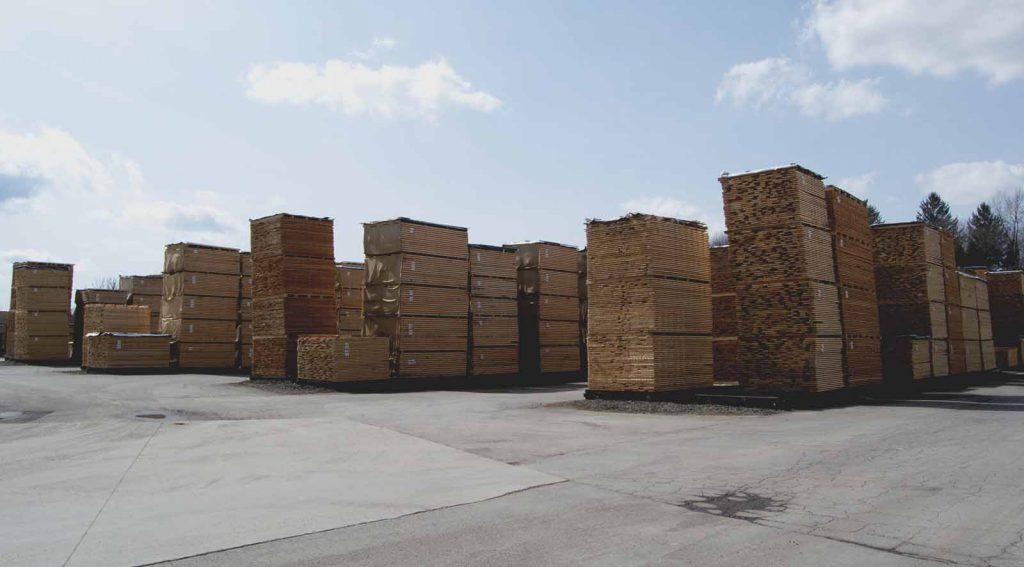 When it comes to finding reliable hardwood lumber manufacturers in the United States of America, there are some things you need to consider. Quality and reputation are essential, as is a long track record of success. You must also look for customer reviews from domestic and international customers and membership in trade associations like the American Hardwood Export Council and National Hardwood Lumber Association. Let's take a closer look at what you should be looking for when it comes to finding a reliable hardwood lumber manufacturer.
Hardwood lumber manufacturing experience
Experience matters when looking for a reliable hardwood lumber manufacturer in the USA. Look for those with a long track record of success and who have been around for at least 100 years. Gutchess Lumber has been around since 1904. Gutchess Lumber has nearly 120 years of experience manufacturing hardwood lumber in the USA, specifically in the Northeastern region of the United States. Check out the about page on Gutchess Lumber's website or call directly for more information about their history and reliable manufacturing capabilities in New York and Pennsylvania.
Read customer reviews
It's also important to read customer reviews from both domestic and international customers, depending on your location. This will help you gauge people's satisfaction with their product or service. If you are an international buyer looking for a reliable hardwood lumber manufacturer, shipping times can be a huge factor in your decision. Gutchess Lumber is known for its reliability when it comes to shipping times. Here are a couple of reviews from Gutchess Lumber customers.
"We have been trading with Gutchess Lumber for at least 20 years. They have always been reliable, straight-forward and their quality always meets expectations. Gutchess Lumber has always delivered on time, as per their contracts and their staff responsible for documentation are very thorough, ensuring that we never have any problems with the import process. We have no hesitation in advising that Gutchess Lumber is an honourable company."

"We purchase from Gutchess because we know the quality of the material is going to be high quality at a reasonable price, and the customer service is going to be at a high level. You always come through on your promises, and that gives us a great deal of confidence when ordering! We have had lots of issues with poor quality material arriving from other vendors in the past, and we know that we don't need to worry about this from Gutchess."

Commercial Furniture Manufacturer, USA
Check hardwood lumber manufacturing associations
Another good way to find reliable hardwood lumber manufacturers in the USA is by seeing if they are members of groups like the American Hardwood Export Council (AHEC) and the National Hardwood Lumber Association (NHLA). These organizations provide tools for you to look up their members to verify membership. While any company can say on its website they are a member of a hardwood lumber association, it's always best to check. For example, use AHEC's member lookup tool by searching "Gutchess Lumber," you will see they are a verified member. You can also use this tool to search specifically for hardwood lumber manufacturers in the USA. Being a member of these organizations shows that Gutchess Lumber is committed to providing its customers with quality products while adhering to industry standards.
For more than a century, the Gutchess Lumber name has been synonymous with hardwood lumber manufacturing excellence in the USA. The employee-owned and family-led business is renowned for its commitment to combining high-quality hardwood and outstanding service, leading customers from all over the globe to rely on Gutchess Lumber as their source of hardwood. With extensive expertise and years of reliable hardwood inventories, "Be sure it's Gutchess" is the gold standard tagline known worldwide.
In conclusion, finding a reliable hardwood lumber manufacturer in the USA can be challenging, but it doesn't have to be. By researching their longevity in business and reading customer reviews both domestically and internationally, you'll have peace of mind knowing you've chosen the right company for your hardwood needs. Additionally, ensure any potential company is a member of reputable industry organizations like AHEC or NHLA so that you know they follow industry best practices when producing high-quality lumber products with superior craftsmanship. With these tips in mind, you can rest assured that your hardwood needs will be met with an experienced partner who takes pride in delivering quality products year after year.