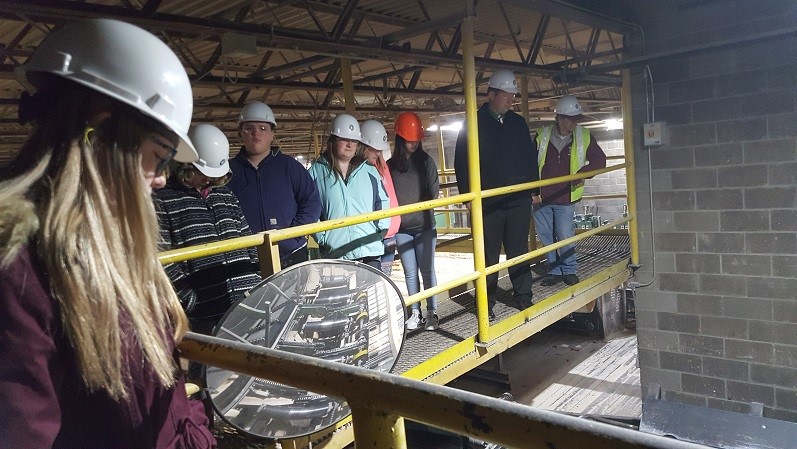 Hardwood production is an interesting process to witness. It's even more interesting when you get to see it in person. A video can only do so much justice. That's why Gutchess Lumber Co. Inc is happy to open its doors to students of all ages to see a glimpse of how hardwood is produced. Gutchess Lumber previously welcomed Agriculture Science and Natural Resources students, part of McGraw Central School District's AIR CTE pathway program, to see what goes on in our Cortland, New York hardwood sawmill.
A Message from McGraw Central School District
The Agriculture Science and Natural Resources classes, both a part of the new AIR CTE pathway, went to Gutchess Lumber on December 17th for a tour of their facilities. We were shown how logs are processed- from being segregated by species out in the yard, being sawed-graded-bundled, to being dried in their kilns. Chris Barber spoke to the students about employment opportunities and what it takes to do the job- the 3 D's: dependability, durability, and drive. In addition, he explained the whole process of how a log becomes a board and all the technical aspects of each stage of that process. Despite the cold, students and staff enjoyed the tour and learned quite a bit about a world-renowned company right here in our backyard.
The Hardwood Production Process
The first step in hardwood production is harvesting trees. The Gutchess Lumber Natural Resources Department ensures that the mill has a continuous flow of hardwood logs by working with our own land and individual landowners across New York and Pennsylvania to develop responsible forestry management programs. Once the trees are cut down, they are transported to our sawmills where they are then debarked and cut into lumber. The lumber goes through a kiln-drying process where it is dried to a specific moisture content over the course of several weeks or sometimes months. After the lumber is dried, it is ready to be shipped out and used for various purposes.
Common Uses for Hardwood Lumber
Hardwood lumber can be used for a variety of projects, both big and small. Some of the most common uses that Gutchess hardwood goes into making include:
Furniture making
Cabinetry
Flooring
Molding and trim
Wood components
Caskets
Stair treads
Why Learn About the Hardwood Manufacturing Process?
It's always beneficial to learn about how things are produced, especially when it's something that we interact with on a daily basis like hardwood. Seeing the process in person can also be very eye-opening and might even inspire students to pursue a career in this field. There are several career paths that students get introduced to, including forestry and natural resources, material handling, mechanics, electricity, and more. Who knows, maybe one day these students will be the ones running our yard.
Overall, it was great having students from AIR CTE pathway visit our facility and learn about the hardwood production process. If you are a local business or school and are interested in seeing how hardwood is produced or just want to learn more about the industry in general, we highly encourage you to reach out to us to talk about what we can do to help continue learning outside of the workplace or classroom.